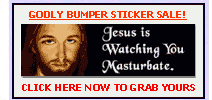 Someone gave me this hilarious satirical link years' ago - but then I lost it! I accidently stumbled across it again tonight! Whoo hoo! If you have a healthy sense of humour - check it out.
(As an ex fulltime Missionary, I think I'm fully entitled to have a laff at this stuff! lol.)
Grab your bible - it's
IN
there! I'm thinking of using this as my new mousepad... what do you reckon...? Hahahaa!
(Check the 8th line of
this link
...!)